Speaking Request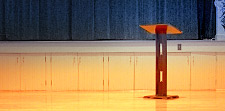 Dr. Kreeft charges $2000 per day or part of a day away from home (plus plane fare) and is available Friday thru Sunday on some weekends. (This is reasonable given his profile and schedule—he charges mostly for time away from family. Thus international travel is too far.) For the day he arrives, he will do as many talks as you want.
He is no longer doing any interviews for film or video.
Please include his website on all promotional material http://www.peterkreeft.com
Last, please pick out a few candidate dates and topics, to be put in touch with Dr. Kreeft. Response will vary according to availability. Thank you!